Rates 2018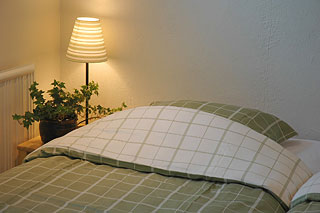 Low season
High season and major holidays
2/1 - 21/6, 20/8 - 21/12
22/6 - 19/8, 22/12 - 2/1 (2019)
Double room (2 pers)
950
1050
Children 1 - 12 years,
discount per child/night
-70
-70
The rates are based on a minimum stay of two nights. Please note there is a 50 SEK surcharge per person for single night stay.
Children under 1 year, in extra bed/cot 100 SEK/week.
No charge for children under 1 year sleeping in parents bed or if you bring your own cot.
Dog 80 SEK/night.
Bed & box - Vacation with your horse
You can bring your own horse in the period 1 May - 30 September.
Horse in field 120 SEK/night.
Horse in box 220 SEK/night.
Contact us for questions or more information.
Major holidays
Midsummer (18-21/6), Christmas (23-27/12) och New Year (29/12 - 2/1)
Please note that during these periods the minimum stay is two nights.
High season prices are applicable but breakfast is not served during major holidays.
Terms and conditions and other information
We follow the general conditions for the association "Bo på Lantgård" (Stay on a Farm).
Arrival time on first day: after 4 PM. Please let us know what time after 4 PM you plan to arrive. Your room must be vacated by 11 AM on your the day of your departure, to allow us time to clean and service the room for the next guests.